This Multi-function Decoder features its super power to decode a wide range of driver chips and it work with DMX address writer.It receives standard DMX512 signal and converts it into SPI for driving LED.You can connect this DMX decoder to our Artnet controller or SD card controller.It supports two DMX decoding models: initiative decoding and passive decoding.In initiative decoding model,the maximum quantity of IC depends on the DMX frame rate;in passive decoding model,it depends on the decoder.Random RGB color changing mode,single color and RGB color pixel replication function.
Connection Layout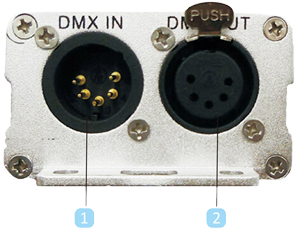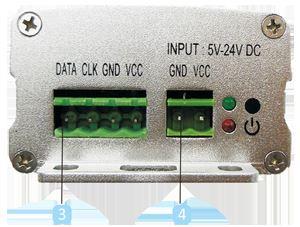 1.DMX IN 2. DMX Out 3. SPI LED fixture 4. DC5V-24V
Technical Specs
Input Voltage

DC5-24V

Input Source

DMX512 Standard

Output Channels

512 CH

Power

<1W

External Dimension

165*68*40 mm

Net Weight

355g

Working Temperature

-20-60

℃
Driver Chip Controllable:
TLS3001/TLS3200
APA102
WS2801/WS2803/WS2811S/WS2812B/WS2812S/WS2821
UCS1903B/UCS1903B_5050/UCS1903C_5050/UCS1903N/UCS1904/
UCS1909B/UCS1912B/UCS2903/UCS2903F/UCS2909/UCS2912/
UCS512/UCS512A/
SM16715/SM16716
TM1803/TM1804/TM1809/TM1812
MY9941/MY9942/MY9943/ MY9931/MY9933/
DMX512AP/DMX512AP-N/DMX512A-PF/DMX512A-W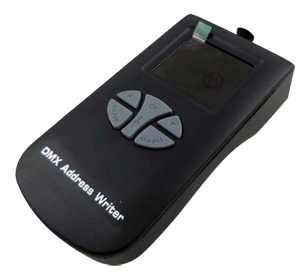 Buttons: UP, Down, OK, ON/OFF, Model.
Technical Specs for DMX Address Writer
| | |
| --- | --- |
| Voltage | DC5V |
| Channel | 512CH |
| Control | DMX512 |
| Net weight | 0.18kg |
| Data Output | XLR 5pin |
| Size | 122*62*32mm |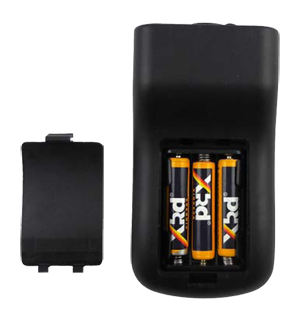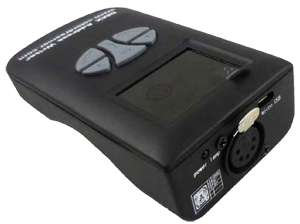 USB port for charging built-in battery;
XLR female connector to signal XLR male connector of LED fixtures
Similar Products:
DMX To PWM Converter RGBW 3 CH
DMX To PWM Converter RGBW 4 CH
DMX To PWM Converter RGB 36 CH
3Cinno Group is one of the top level China multi-function decoder manufacturers and suppliers, we are always at your service.